Double Bay's best salads | Kiaora Place
Wednesday 28 October, 2020
Light yet satisfying salads
Enjoy Double Bay's best salads for lunch at Kiaora Place
How many times does it get to 3pm and you realise you've not eaten since breakfast? When you're trying to fit in all the things, taking time out to enjoy lunch can sometimes feel decadent in today's busy and rushed world. But nourishing your body for the midday meal is ever-so-important.
At Kiaora Place, we're blessed with some of the suburb's best cafes, all with a fantastic selection of meals for lunch. This includes some of Double Bay's best salads, providing light yet satisfying options to keep you feeling your best and energised for busy afternoons.
The flavours of the world, right here at home
Local favourite, Bake Bar, is loved by so many locals for its amazing range of pastries and always flawless coffee. But it's no slouch in the salad department either. Bake Bar's salads can take you around the world for your midday meal, with options like Mexican shredded beef, Asian chicken and Mediterranean brown lentil and haloumi salads. (PS – if you are catering a party at home, these salads are available in trays to serve eight people. Transfer them to a gorgeous platter and no-one will ever know you outsourced. Shhhh, we'll keep your secret safe!)
Tailored your way
The gorgeous space of White Rabbit at Kiaora Place doesn't disappoint either. It's hard to go past the classic choice of the White Rabbit Caesar with roasted chicken breast, prosciutto and a soft poached egg, all perfectly coated in the house dressing. But other stand-out options are the Wellness Salad and Warm Soba Noodle Salad, both of which can be customised to your preference with the optional add-ons of roasted or poached chicken or grilled Tasmanian salmon to provide more substance.
It's the little touches that make the difference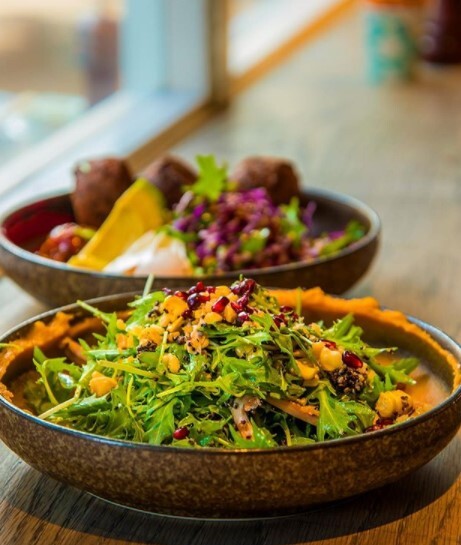 Over the other side of the laneway at Little Jean, it's all about the little touches that make the dishes stand out. Unexpected flavours, like the yuzu and pomegranate in the roasted chicken salad elevate this café from the ordinary. For diners looking for a more substantial meal, base vegetable dishes like the broccolini with mushrooms, pumpkin, black rice, cashew and miso dressing can be paired with protein options like seared salmon, steamed Hainan chicken, Black Angus flat iron steak or snapper fillet. Bound to fill even the hungriest of tummies.
Needing something more substantial?
Of course, it's not just salads available too, with all these cafes serving a range of burgers, sandwiches, pasta and more, if that's more your style. Or if you've left it too late for lunch, but need something to tide you over until dinner time, Little Jean has a range of substantial snacks that will keep you going (and they're a little bit perfect to pair with a chilled Aperitivo, but you didn't hear it from us).
We'd love to know, where's your favourite spot for lunch around Kiaora Place? And if you've not explored our cafes yet, why not grab a friend and enjoy catching up over lunch?
If you liked this article please share: